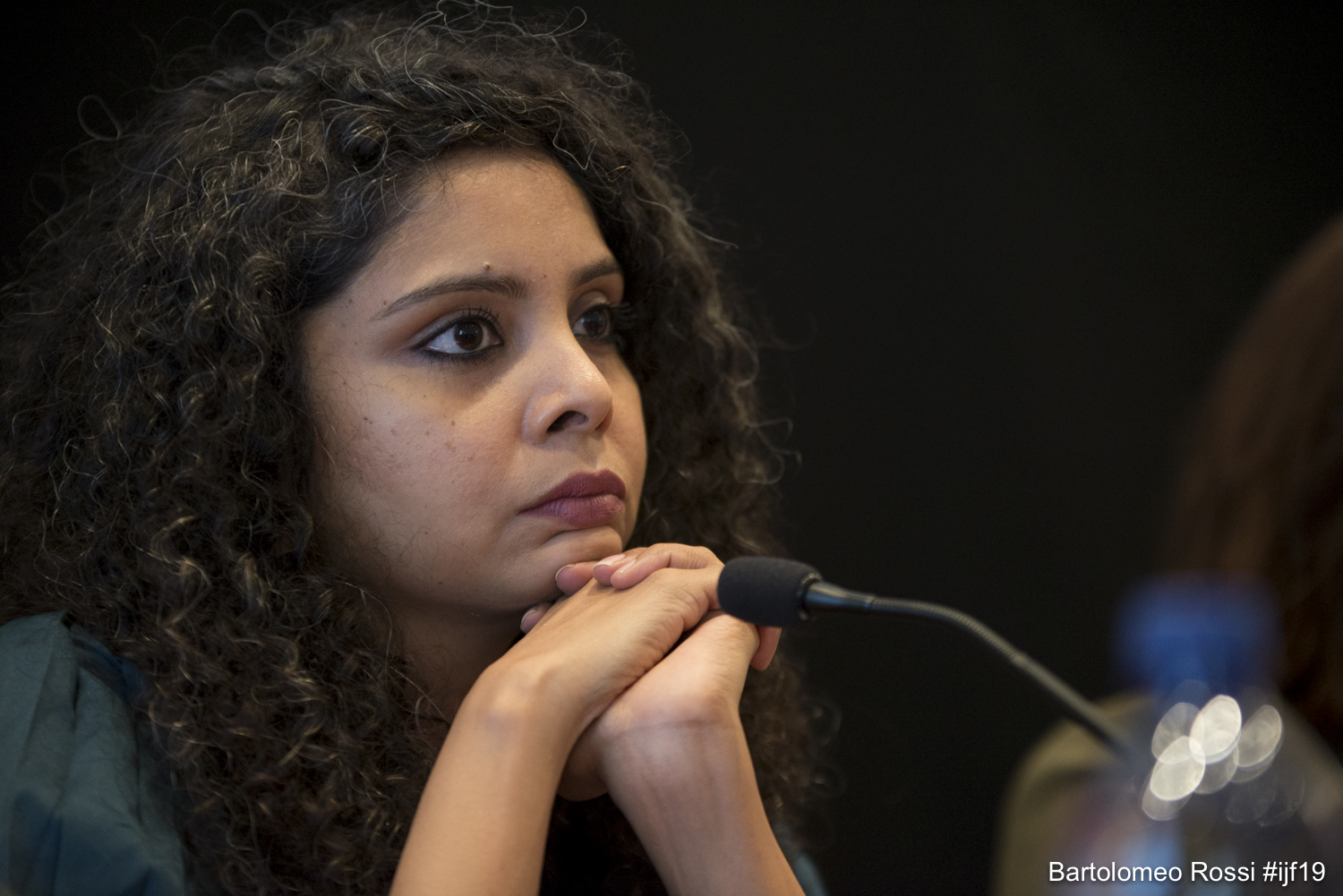 Corruption has become one of the most dangerous beats to cover
– Courtney Radsch, Committee to Protect Journalists
China, Venezuela, Israel, and Saudi Arabia are countries where journalists have suffered online harassment as a consequence of their news reporting activities. However, these places are not the only ones. Journalists from Turkey, Malta, and India shared their experiences in the panel When a state trolls: strategies for responding to online harassment against journalists as part of the thirteenth edition of the International Journalism Festival.
During the introduction, Courtney Radsch, advocacy director of the Committee to Protect Journalists, mentioned that online trolling has become a strategy to undermine the legitimacy of journalists, "We are not just talking about  people who leave nasty comments, we are talking about state-organized, state funded or just state inspired or government inspired trolling." Examples of these activities include polarization, dissemination of misinformation, and astroturfing, better understood as campaigns to create the perception that there is a grassroot support to movements that affect negatively the image of journalists.
Harassment can also involve a specific gender dimension. According to Radsch, "these trolling campaigns include threats of violence, rape, sexual assault, etcetera." Further, online trolling doesn't happen only on the Internet but it can involve physical risk. "We know, for example, that in the cases of journalists such as Gauri Lankesh in India, and Daphne Caruana Galizia in Malta and many others have experienced significant trolling campaigns by state or government before they were murdered."
Three cases of online harassment around the world
Yavuz Baydar, Turkish journalist and editor-in-chief of the news outlet Ahval, commented that in his country trolls are way fewer than elsewhere but they are well organized, and astroturfing is a strategy that is commonly used. Besides, there is an element that adds to online harassment. "In Turkish media environment, polarization and ideological affiliation play a larger part than any sense of solidarity across the ideological divides". Baydar has been targeted since 2017, and particularly after reporting on the controversial activities of Berat Albayrak, Minister of Finances and son-in-law of president Erdogan.
Malta's journalist and editor of The Shift News, Caroline Muscat, reported about secret groups on Facebook that create trolling campaigns against journalists. "We wanted to understand why Daphne Caruana Galizia had become such a target of hate. We have some sense that it was a coordinated campaign, but we have to prove where this was coming from", she explained. After spending 6 months undercover, Muscat identified that members of the government were participating in these movements. Her investigation forced the Prime Minister to leave those online groups. Yet, she underlines that nothing has changed and now the group was converted into a tool to oppress. "What I am experiencing is an association, they are kind of moving, shifting their hate from Daphne on to me."
Ranna Ayub, an Indian investigative reporter and author, shared that she has been harassed on a daily basis since covering the genocide of a thousand Muslims in India back in 2002, and the following publication of her book Gujarat Files. From fake tweets using her name and claiming she hates India and supports the rape of children, to the circulation of her image in videos and her personal data in social media, Ayub recognizes that nobody can be ready to face such harassment, "I don't think I really have to pay the price, this kind of a price for the journalism that I believed in." Rana appears as one of the most 10 urgent cases of injustice against journalists which are under attack around the world, listed by the One Free Press Coalition.
"It becomes extremely difficult to conduct your life in a normal way", Caroline Muscat recognizes, while she continues saying, "Your only course of action is to fight back as hard as you can and publicize the problem as much as you can". She pointed out the situation which creates an atmosphere of fear among journalists, as well as a lack of solidarity among colleagues and from the public. "Literally you become isolated and is very few people who insist on doing this job."
Yavuz Baydar agreed with Muscat about the lack of legal options that can be used when facing online harassment, while Rana Ayyub remarked that the trolling is also offline. This makes attacks against people who are not necessarily public figures easier, as it happened with Gauri Lankesh, the translator of Ayub's book.
The actions by mainstream media were also discussed in the event. On one hand, Yavuz mentioned that in Turkey, conventional media turn into trolling machinery against independent journalists, while on the other, Rana highlighted that national media in India have demonized her and her actions.
Strategies and possible solutions to fight trolling
When asked what social platforms should do to ensure the protection of journalists, Yavuz mentioned that at the moment he feels helpless. Rana commented that in the Indian context, Facebook and Twitter are amplifying hate speech against Muslims, therefore, she recommended that the companies assume their responsibility, "The first thing that Facebook and Twitter need to do is to acknowledge that there is a problem, when you don't acknowledge there is a problem, you will not come to a solution."
Caroline Muscat added that these platforms need to stop considering themselves as neutral actors and start seeing themselves as publishers, including the fact-checking and verification activities before posts are published. On a local level, she mentioned the necessity of looking at electoral laws and urged journalists to back their fight against harassment. "We as journalists need to show more solidarity and overcome the limitations that we are facing by coming together and publishing and supporting the challenges that we are all facing in different parts of the world."
The panel closed with questions of the audience, who were interested in knowing what were the first signs that journalists detected and make them feel insecure, what has to be changed, and their thoughts on anonymity. Yavuz Baydar responded that people should pay attention to television content, especially when it starts to be curbed and pointed out the rise of anti-women discourse as a hint. Rana Ayub followed by saying that anonymity is not an option for investigative journalists while Caroline Muscat commented she would like to have supported Daphne Caruana Galizia's work more.
When questioned about the role of third-party agencies such as the United Nations or the European Union, the moderator, Courtney Radsch, noted on the skepticism of the ability of international organisms to regulate anything related to the Internet, and that control should not be seen exclusively related to content. "We have seen very mixed and poor results with the ability of States to regulate speech, so let's regulate, let's look at behaviors, let's look at privacy as a flip side of freedom of expression", she concluded.