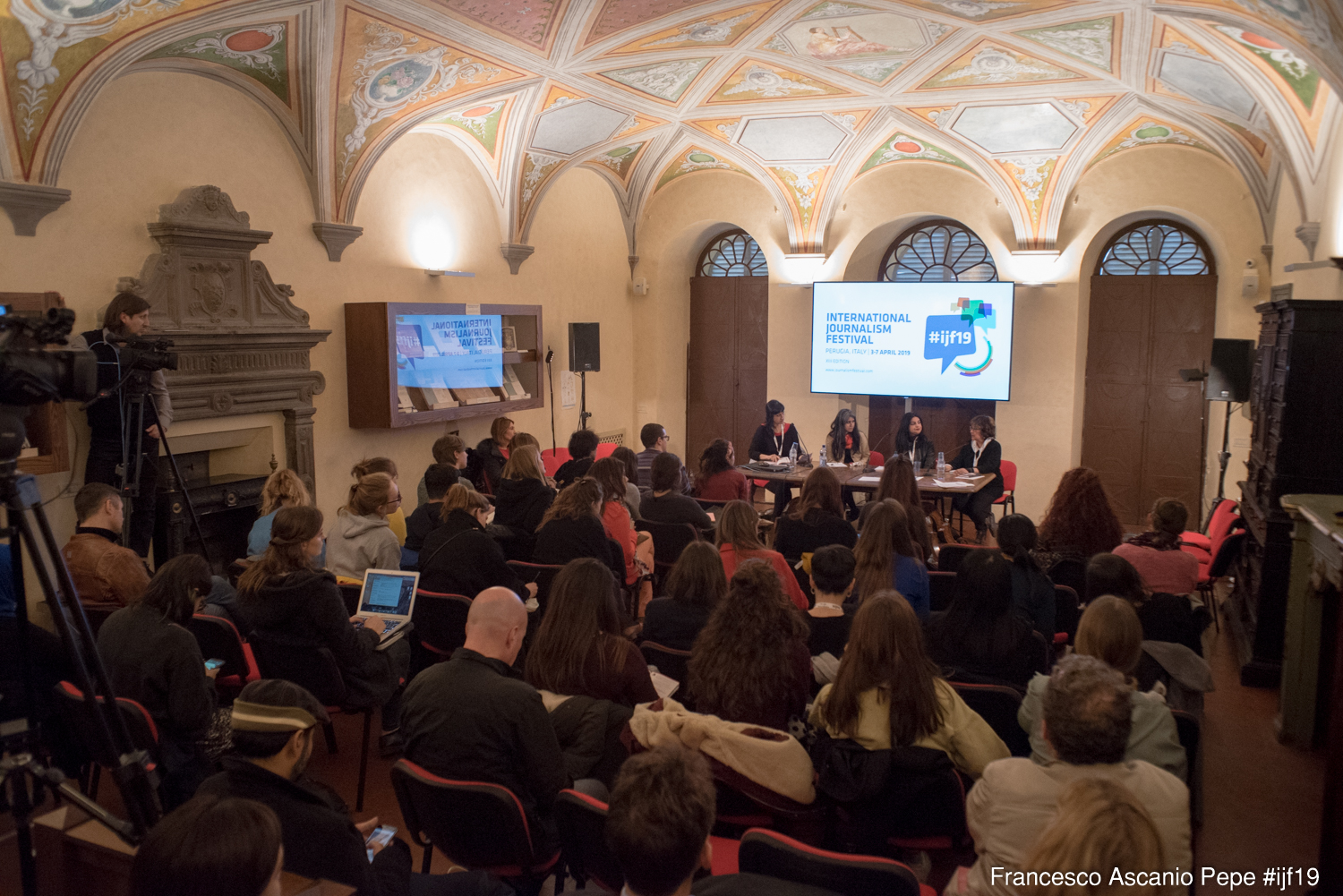 Although the number of Muslim voices in Western media is growing, the public perception of Muslim women is still trapped in the dichotomy between utter silence and inauthenticity. As explained by Arifa Akbar, former reporter at The Independent and current theatre critic at the Guardian, Muslim women are portrayed as either veiled victims, who are oppressed by their own patriarchal beliefs, or as emancipated individuals and thus somehow inauthentic, in other words, privileged.
But how does this polarisation influence the work of Muslim female journalists? What are the expectations they are or feel subjected to? Should they be the ambassadors of their own faith or consider it a private matter, separate from their work? These are just a few of the questions that animated the event  "Suppressed or unbelievable: the polarised perception of Muslim women in Western media", an all-female panel discussion hosted at Palazzo Sorbello as part of the 13th edition of the International Journalism Festival in Perugia.
"I don't embrace anything except my husband, whom I love very dearly, and my children, because I think loyalty kills journalism", says Yasmin Alibhai-Brown when asked whether she feels, as a Muslim journalist, the pressure of answering for her community. A British journalist and author who was raised in Africa, Alibhai-Brown describes herself as an immigrant, a feminist and "on the left" and believes that any form of loyalty "kills the independent, investigative, enquiring thing in your head that makes you want to be a journalist".
She admits, however, the difficulty to challenge that loyal feeling: although she has always kept her religion as a private matter, the growing Islamophobia made her speak out against it to defend her community, even though she keeps criticising it from within, especially as regards wearing the veil: "I've written a whole book about this called 'Refusing the veil', from a Muslim point of view, but if I see a woman with a veil being abused, I would be the first to defend her and I've done this and once I put my own life at risk". When confronted with anti-Islam sentiments or crimes, therefore, she really feels Muslim, as did Akbar after 9/11, when she stepped in as a journalist with a Muslim background writing against the common narrative.
Expectations from Muslim journalists are, however, high and hard to meet, both those coming from one's own community and those coming from the newsrooms. All panelists recounted being confronted with biased newsrooms when they first got in the media industry, mainly because they were expected to fit a specific category, that is "the Muslim reporter". Essayist and writer Hani Yousuf, who has worked in Germany, Pakistan, and the US,  shared with the audience her first experience as a journalist in the US. Although she was an English literature graduate and had worked as a theatre critic, she remembers being told by one of her university professors that she was lucky because being Muslim meant she could cover "mosque stories", a "privilege" that her white, non-Muslim colleagues didn't have.
Similar experiences were lived by Akbar who reported that during her time at The Independent, her editor kept assigning her stories on forced marriages. At the fourth news on the same issue, she took the courage to question her editor and, as a consequence, she was never asked again to cover stories on the basis of stereotypes connected to her background.
On the other side, however, there is the testimony of Anila Baig – who now works as an author at Asian Life and the Daily Mirror. When describing her experience as a reporter for The Sun, a right-wing newspaper which often fosters islamophobic sentiments,  Baig underlines how she didn't feel limited or treated as "the Muslim reporter". Maybe because she focused mainly on women's lifestyle, a kind of neutral field, she was actually quite free to express her views. However, she noticed an overall fetishisation for Muslim women. "They loved the hijab", she says. According to her, Muslim women are perceived as trendy, different. This reputation, however, perpetuates the objectification and alienation of Muslim women, who are no longer seen as humans, but rather "letterboxes" and "bank robbers", as Boris Johnson called them (referring to their burkas).
Such reification reduces humans not only to objects, but symbols and, even worse, perfect scapegoats. Just think about the woman in hijab walking past terror attack victims on Westminster Bridge in 2017. Her picture was captured and used over and over again, her apparent "indifference" used by right-wing groups to make her the victim of vicious attacks online.  Again, Muslim women become outcasts, their integration is considered impossible as long as they believe in their religion.
"The thing that most people don't expect of us is that we are completely human, we have different views, different life histories. We disagree with each other", explained Alibhai-Brown. But how can this problem be fixed if it's so deep-rooted? Quoting Alibhai-Brown, "This is our resistance". What media needs is more diversity, a variety of voice against stereotypes, ready to disrupt common – and often toxic – narratives.